Rakes And Rascals
I have some catching up to do with this series as I still have THE HEIRESS EFFECT and THE COUNTESS CONSPIRACY to read.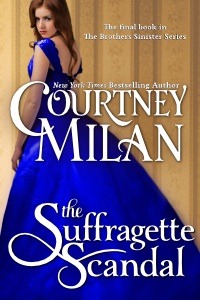 (Brothers Sinister, #4)
Genre: Historical Romance (Victorian)
Cover Blurb
An idealistic suffragette…
Miss Frederica "Free" Marshall has put her heart and soul into her newspaper, known for its outspoken support of women's rights. Naturally, her enemies are intent on destroying her business and silencing her for good. Free refuses to be at the end of her rope…but she needs more rope, and she needs it now.
…a jaded scoundrel…
Edward Clark's aristocratic family abandoned him to die in a war-torn land, so he survived the only way he could: by becoming a rogue and a first-class forger. When the same family that left him for dead vows to ruin Miss Marshall, he offers his help. So what if he has to lie to her? She's only a…
View original post 94 more words