MyBookAddictionReviews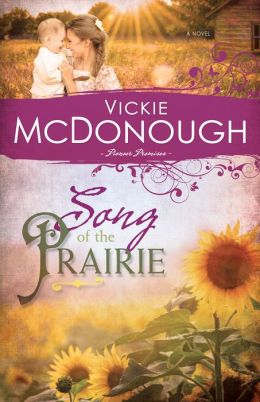 SONG OF THE PRAIRIE
VICKIE MCDONOUGH
http://www.vickiemcdonough.com.
http://www.songoftheprairie.whitakerhouse.com
Genre: Christian Historical Romance(American Frontier)
Series: Pioneer Promises #3
Source: Received for an honest review from the publisher.
Series: Pioneer Promises (Book 3)
Paperback: 256 pages
Publisher: Whitaker Distribution (August 15, 2014)
Language: English
ISBN-10: 1629111708
ISBN-13: 978-1629111704
(Courtesy of the publisher and/or author)
Song of the Prairie
by Vickie McDonough
Pioneer Promises #3
A Runaway New Mother…
Janie Dunn's dreams of being an opera singer suddenly dim when, at her dying cousin's request, she flees Boston with her cousin's newborn son to protect him from his abusive father. She moves to Kansas to live with her brother, who poses as her husband to protect her identity, lest the baby's father seek her out. But it's hard living a lie, even more so the closer she grows to her neighbors on the prairie.
A Widower Missing His Children…
Aaron Harper lost his…
View original post 447 more words